DENTAL BRIDGES IN FRAMINGHAM
---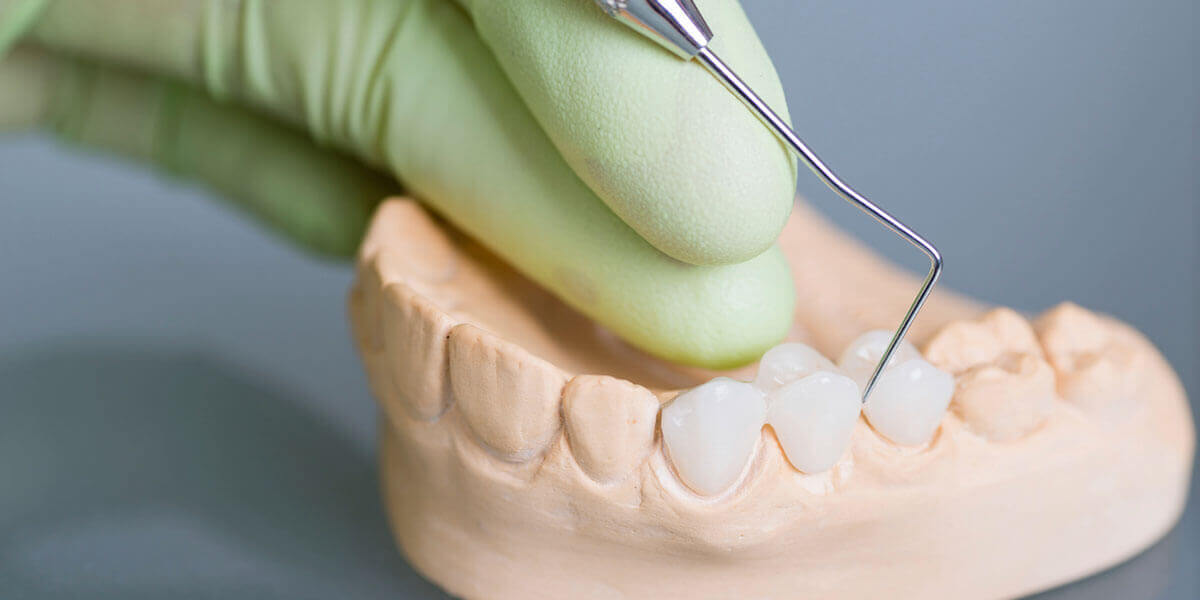 ---
Metrowest Prosthodontics provides dental bridges in Framingham, MA.  Call 508-620-6622 today to learn more and schedule your appointment.
Missing one or more teeth is common for many people.  The ADA reports that on average adult patients may have three missing or decayed teeth.  Fortunately, there are a number of solutions to replace missing teeth, including dental bridges.
A bridge may be used to restore an area with one or more adjacent missing teeth.  A bridge has two primary components.  The abutments (or supports) for the bridge are created by placing a crown on either a natural tooth or an implant.  The synthetic tooth that replaces the missing tooth is called a pontic.
Traditional Dental Bridge
A traditional dental bridge is a fixed appliance cemented in the patient's mouth to replace a missing tooth or teeth.  The adjacent teeth will be prepped for the abutment crowns and an impression will be taken of the area and a bridge will be fabricated by a dental lab.  The patient will leave with a temporary bridge and return to the office a few weeks later to have the permanent bridge cemented in place.
Implant Supported Bridge
An implant supported bridge is similar to a regular dental bridge, but it is supported by implants and not by natural teeth.  In most cases but not all, when an implant-supported bridge is used, one implant is placed in the jawbone for each missing tooth.  Then the crowns are connected to each other to form one piece.  This option is very helpful where there are one or more adjacent teeth missing.  This option provides a very secure option to restoring missing teeth.  
Dental implants are placed using the implants as support, thus the natural teeth on the abutment sides of a traditional bridge are not involved.  The implants will be covered with the abutment and crown, the pontic  will be connected to the implant crown abutments on either side.  This ridge option takes longer as the implants must integrate with the bone.
Call us today at 508-620-6622 to learn more and schedule your appointment.
Dental Bridges FAQs
Is a bridge better than an implant?
Generally speaking, dental implants (including implant-supported bridges) are a better choice than traditional bridges because they do not place any stress on supporting teeth that are used as abutments; instead, implants anchor the bridge in place. Dental implants also help prevent and even reverse bone loss in the jaw for a stronger bite and improved facial appearance.
Is a dental bridge permanent?
A traditional dental bridge can be expected to last five to 15 years with proper care and good oral hygiene. Implant-supported dentures are likely to last even longer.
How long does a dental bridge last?
Dental bridges are permanent. They are cemented to place using a very strong Resin Cement. A bridge supported by dental implants can, usually, be removed, but only by the Dentist.
What are the disadvantages of dental bridges?
The primary disadvantage of traditional dental bridges is their reliance on adjacent teeth for support. By using these teeth as abutments, bridges place stress on surrounding teeth, leaving them susceptible to damage.
Does food get stuck under a dental bridge?
Yes, some foods are prone to getting stuck under bridges or between the bridge and the surrounding teeth. After placing your bridge, we'll show you how to clean it using spongy floss.
Can you get a bridge on front teeth?
Absolutely—and when you need a bridge on your front teeth, there's no one better than a Prosthodontist to provide it because we have specialized training in the design of realistic-looking dental restorations and prosthetics. We take great care to ensure that your bridge looks natural and blends in perfectly with the rest of your smile.
Is getting a bridge painful?
Whether you're getting a traditional bridge or an implant-supported bridge, you don't have to worry about it being painful. When the abutment teeth are being prepared for crowns in order to support a traditional bridge, your teeth and the tissue surrounding them will be numbed with local anesthesia to ensure that you don't feel any pain while we work. Likewise, if you're getting an implant-supported bridge, you will receive local anesthesia prior to dental implant surgery.
Does a dental bridge feel natural?
Fixed dental bridges feel very natural in the mouth—you might even forget that you have one! They don't feel exactly like real teeth because, being artificial, they don't experience sensation in the same way, but they are stable, secure, extremely esthetic and allow you to continue to eat all of your favorite foods.
Does dental insurance pay for a bridge?
Yes, many dental insurance plans cover at least some of the costs of a traditional dental bridge. With implant-supported bridges, your insurance provider may cover the cost of the restoration, but not the implants themselves. After your initial consultation, we will provide you with an estimate of what your insurance will cover and what you will be expected to pay out of pocket. Talk to your insurance company or ask our billing team for help understanding your benefits.